The Ultimate Guide to Hair Repair: Botanical Repair Professional Treatment + Overnight Serum
Posted on - Products
Summer has made its way out, and you know what that means … it's time for a little TLC after sunny days and beach vacays. Hair repair is our number one priority this fall season—and Aveda's Botanical Repair collection makes it easier than ever to repair damage. With an invigorating plant-based formula that includes coconut, avocado and green tea seed oil, this regimen nourishes hair from the inside out and forms an extra layer of defense against damage.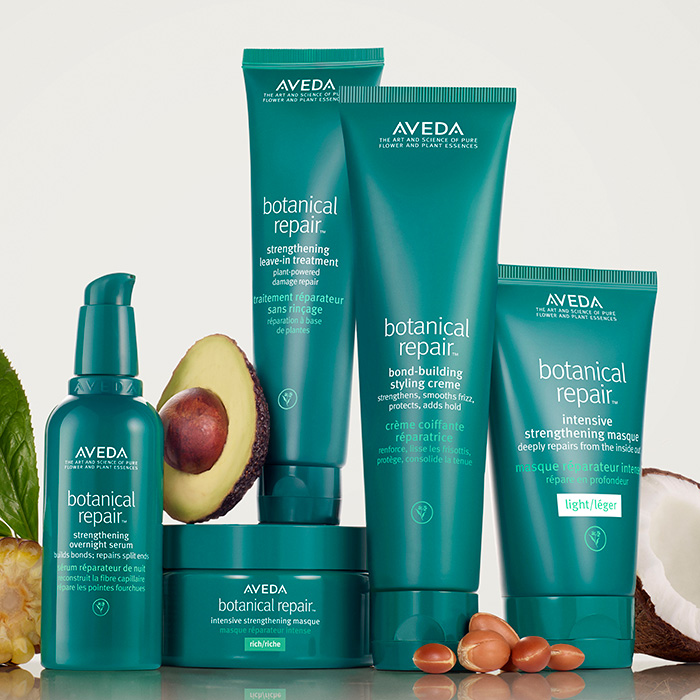 How does the Botanical Repair Strengthening hair system work?
As a plant-powered, bond-building superstar, the Botanical Repair collection creates hair that is stronger, shinier and naturally full of life with three key steps: repair, prevent and protect. The system is formulated for all hair types, so locks of all types and textures can benefit from its transformative power.
Repair: The Cortex
The plant-powered, bond-building molecules penetrate the inner cortex to strengthen and repair hair from within.
Prevent: The Cuticle
A nourishing macro green blend with avocado, green tea and sacha inchi oils smooths the cuticle to detangle and help prevent breakage.
Protect: The F-Layer
The plant-derived complex mimics the hair's outer f-layer to help protect hair.
Who should use the Botanical Repair system?
Did you know that there are four types of hair damage? Physical, chemical, heat and environmental factors can wreak havoc on otherwise healthy and strong hair. Pay attention to these culprits in your routine:
Physical damage: brushing, detangling, traction styling or extensions
Chemical damage: coloring, lightening, perming, relaxing or keratin treatments
Heat damage: straightening, blow drying and curling
Environmental damage: humidity, UV exposure and hard water
If any of these factors are a regular part of your routine, then the Botanical Repair collection may be for you (browse online here).
Still unsure? Take a look at your strands. Damaged hair generally looks dull, feels rough and may have ends that are broken and thin. Plus, damaged hair is very reactive to the weather—with excessive frizz in humidity and brittleness in the cold. When wet, damaged hair is especially fragile and prone to breakage.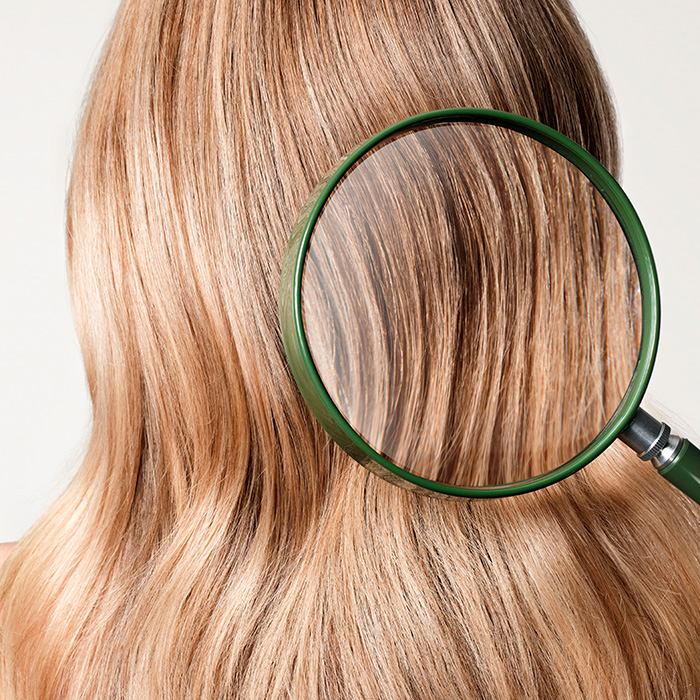 So your hair needs repair. What next?
Your first order of business? Ask for a Botanical Repair Professional Treatment with your next service.
This in-salon service transforms your hair in only 10 minutes with bond–building plant technology and botanical oils—creating stronger, softer and smoother with one pro treatment.
And, if you're color-obsessed like us, this treatment is a must-have—as it makes color-treated hair 5x stronger in just one visit. Upgrade your service with a Botanical Repair Professional Treatment during your next service, or stop by for a standalone treatment.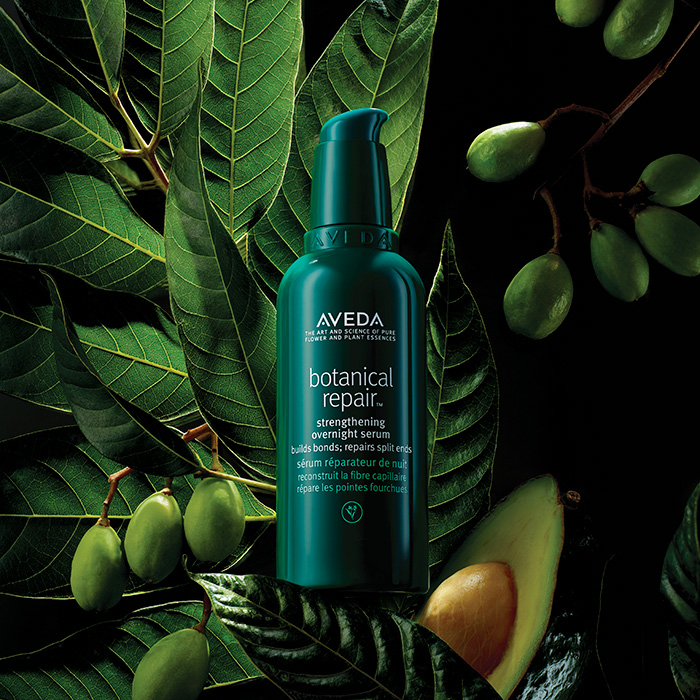 Get stronger hair—while hitting snooze on repeat. Aveda's first overnight intensive serum strengthens hair while you sleep by building bonds, repairing all three layers of hair and using Nangai oil to reduce the appearance of split ends by 84% overnight.
How to use:
Apply generously to hair from midshaft to ends at bedtime. Do not rinse.
Sleep on it.
In the morning, style as usual.
Crafting your Botanical Repair regimen:
Step 1: Use the strengthening shampoo to gently remove excess sebum, product buildup and pollution.
Step 2: Use the strengthening conditioner to instantly detangle and help with breakage. Add an intensive strengthening masque for deep repair.
Step 3: During the day, use the strengthening leave-in treatment to protect from heat damage and UV rays.
Step 4: At night, use the strengthening overnight serum for intensive overnight repair and split end reduction.
Start your hair repair regimen today! Stop by to shop, call or text True Blue Salon at 615.329.4454 for personalized recommendations. Or, browse our online store here.